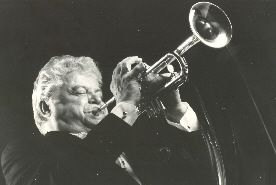 From Allah (swt) do we come, and unto Allah do we return. I'm sorry to hear that
Maynard Ferguson
has passed away. He was 78.
For those of us in the drum corps activity, Maynard was a major inspiration. My corps in 1978, the
Empire State Express
, played Maynard's arrangement of "Scheherazade," from the "New Vintage" album. It's a great song, and very typical of Maynard's style, with the elongated, park-and-blow double high C. On the recording, Maynard holds that double high C for - oh - 45 seconds or so. Our lead soprano could only hold it for about 20 seconds at the most.
Theories abounded as to how Maynard could hold the note for so long, the most popular being "circular breathing," where Maynard could somehow both breathe in and play the trumpet simultaneously. The article linked above suggests that Maynard credited yoga for his ability to sustain his notes.
Maynard: You will be missed.